W O R K S H O P S
Mommy in-Tune workshop with Juanita Bredenhann.
Saturday 10 November
14:00-15:30
Cost R200 per mommy
Bookings are required please contact helen@yogaharmony.co.za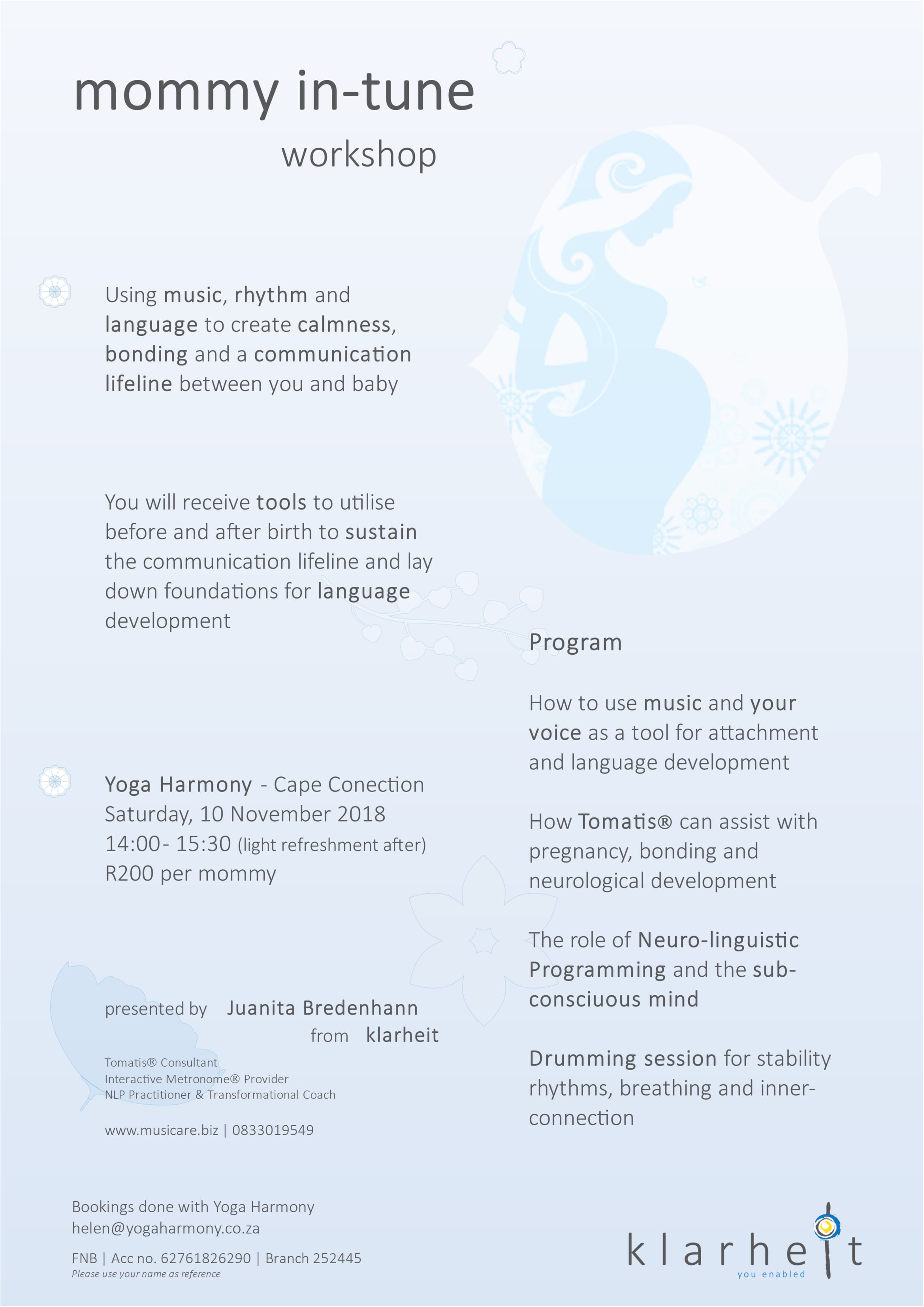 Inversion Workshop with Candice Helena
Date : Saturday 27 October 2018
Time 14:00-16:00
Cost: R300
All levels welcome!!
Candice has been practicing yoga since 2011. She is 200hr Yoga Alliance certified in Vinyasa & Forrest Yoga.
Candice started her journey through yoga as a way to discover more about life, herself and the mind and as that of others. Yoga is a lifestyle to her and has inspired her in so many aspects of her life.
Learn how to prepare and stay safe in inversion yoga poses and learn about the benefits and fundamental principles of inversions.
Inversions are yoga poses where the heart is higher from the ground than the head. Purposely turning ourselves upside down is contrary to our physical nature and yet the benefits are many and profound.

All levels are welcome as various layers of inversions are explained allowing you to practice the many stages that feels best for your practice.
A few of the many benefits of inversions:
• Improves lymph flow, Detoxifies • Strengthens core, spine, arms and shoulders • Energizes and Revitalizes • Improves balance • Builds confidence • Gives us a new perspective on life.
Bookings are essential contact helen@yogaharmony.co.za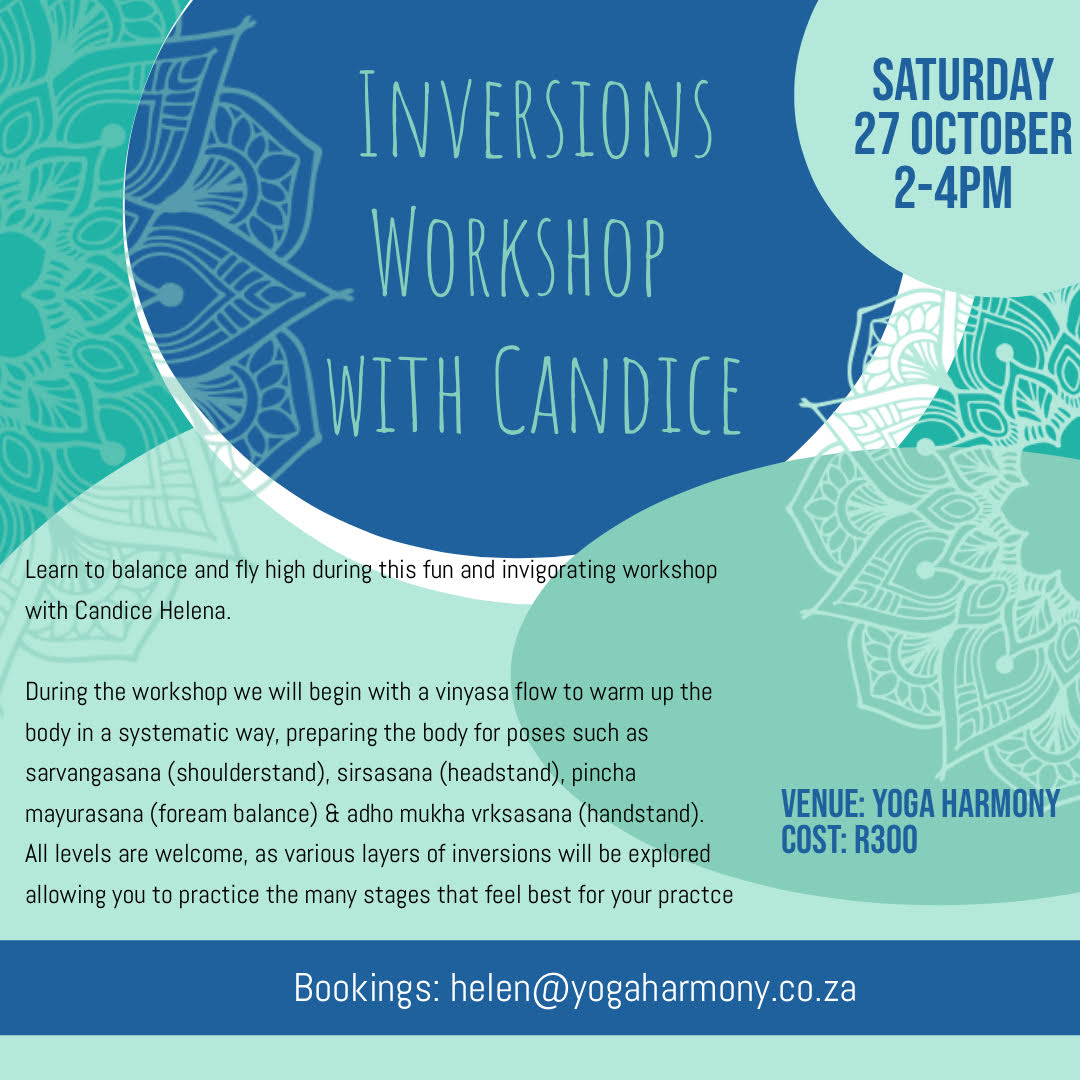 The Healing Space presents:
Spring Equinox Sound Journey
With Danyal Swan and Denzil Wait
At Yoga Harmony Pretoria
Join musicians Danyal Swan and Denzil Wait on an immersive journey through the wondrous world that is sound. Bringing their unique individual musical skill sets together, they will be exploring various sound and musical elements including, but not limited to, Tibetan singing bowls, bells and chimes, percussive to melodic instruments, and the original musical instrument, the voice.
We invite you to come and indulge your spirit in this unique auditory, meditative and healing experience, at the turn of the 2018 Spring Equinox, celebrating the cycle of new life as we enter the change of season into the summer months.
When: Sunday 23rd September 2018
Time: 18:00 – 20:00
Contribution: R300
What to bring: Yoga mat, blanket, pillow. Comfortable clothing is recommended.
Please arrive 20 mins before the journey begins.

Contact Danyal at 076 859 6006 or danyal@thehealingspace.co.za for bookings.
Booking is essential, as space is limited.

Banking details:
Yoga Harmony
FNB: 62761826290
Branch Code: 252445
helen@yogaharmony.co.za / 082 309 7482 for proof of payment.
Please use your name and "SOUND" as reference when making your payment. Your space can only be secured once payment has been made.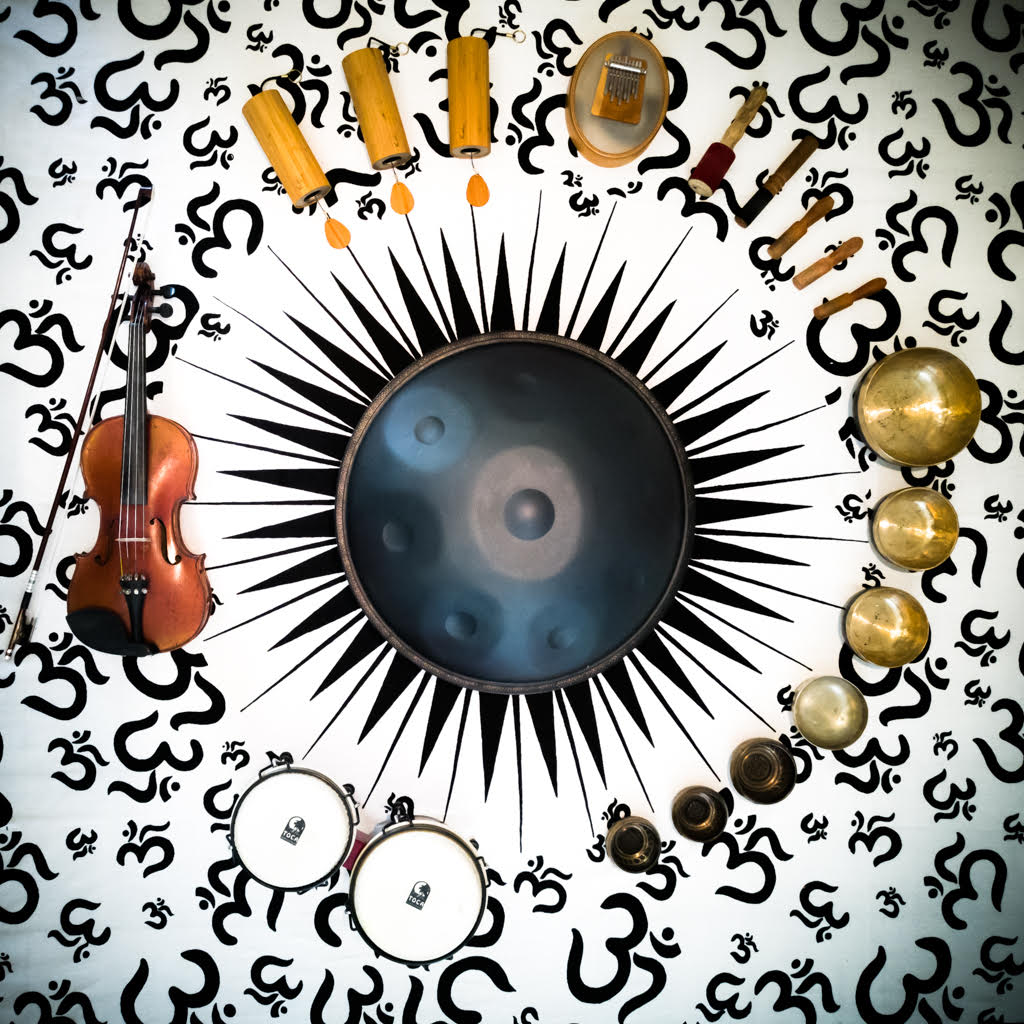 Backbending Workshop with Candice
Date: Saturday 22 September
Time: 14h00 - 16h00
Cost: R300
Place: Yoga Harmony
Bookings are essential contact helen@yogaharmony.co.za
0823097482
Candice has been practicing yoga since 2011. She is 200hr Yoga Alliance certified in Vinyasa & Forrest Yoga.
Candice started her journey through yoga as a way to discover more about life, herself and the mind and as that of others. Yoga is a lifestyle to her and has inspired her in so many aspects of her life.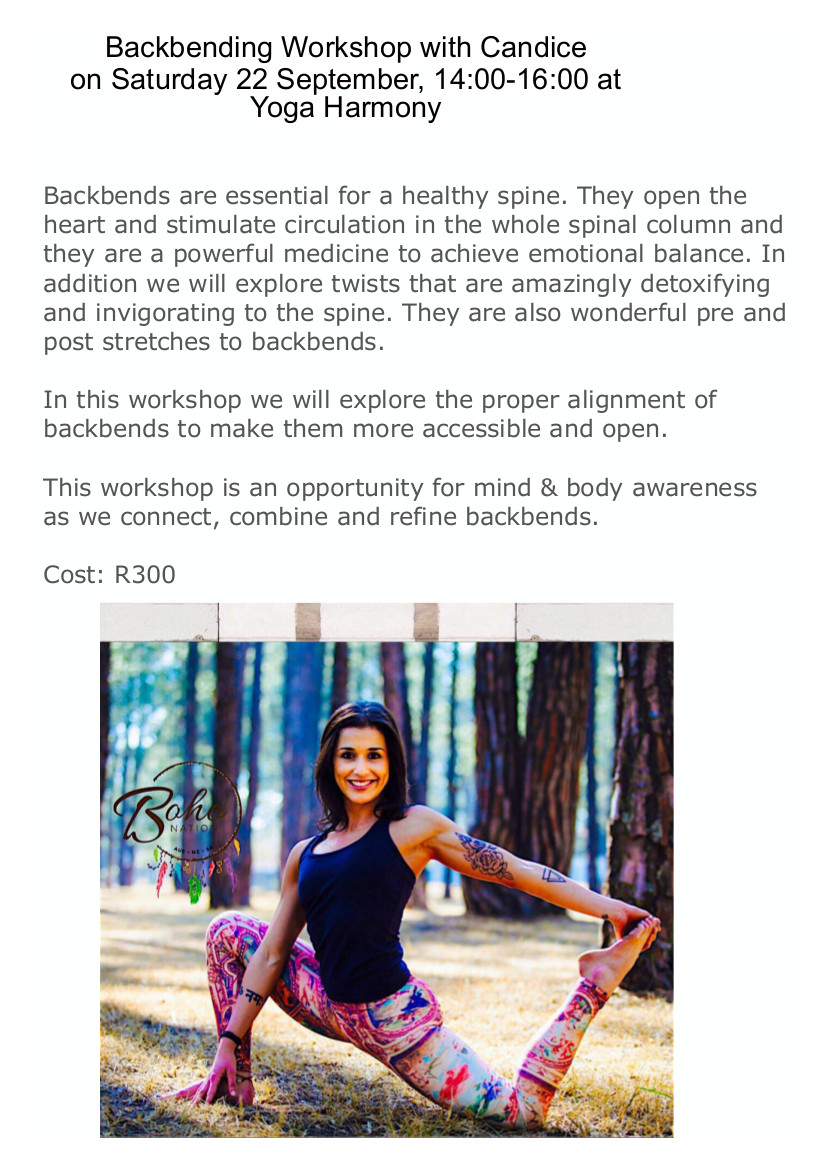 Chakra Workshop with Sabrina
Date : 7 July
Time 13:30-16:00
Cost : R300
Including booklet
Bookings are essential contact helen@yogaharmony.co.za
0823097482
The word 'chakra' is derived from the sanskrit word meaning 'wheel'. Literally translated it means 'Wheel of spinning Energy'.
A chakra is like a whirling, vortex-like, powerhouse of energy. Within our bodies, you have seven of these major energy centres and many more minor ones.
These swirling wheels of energy correspond to massive nerve centers in the body. Each of the seven main chakras contains bundles of nerves and major organs as well as our psychological, emotional, and spiritual states of being. Join us for a wonderful basic introduction to the 7 main chakras for all levels. We will go through each chakra, learn how it affects the body and mind and what yoga poses and pranayama we can use to activate and realign our chakras or energy centres. The booklet will include information on 4 pranayama/ breathing techniques, the traditional Hatha sun salutation and information on each chakra and the poses that engage that chakra. As well as a morning and evening routine that one can do at home.
Sabrina Balanco is a Hatha based yoga teacher, and fell in love with all things yoga during her teacher training in 2016 and that love and passion only continues to grow with each day, learning and sharing as she goes along. You can find Sabrina on Facebook and Instagram @asanatribe.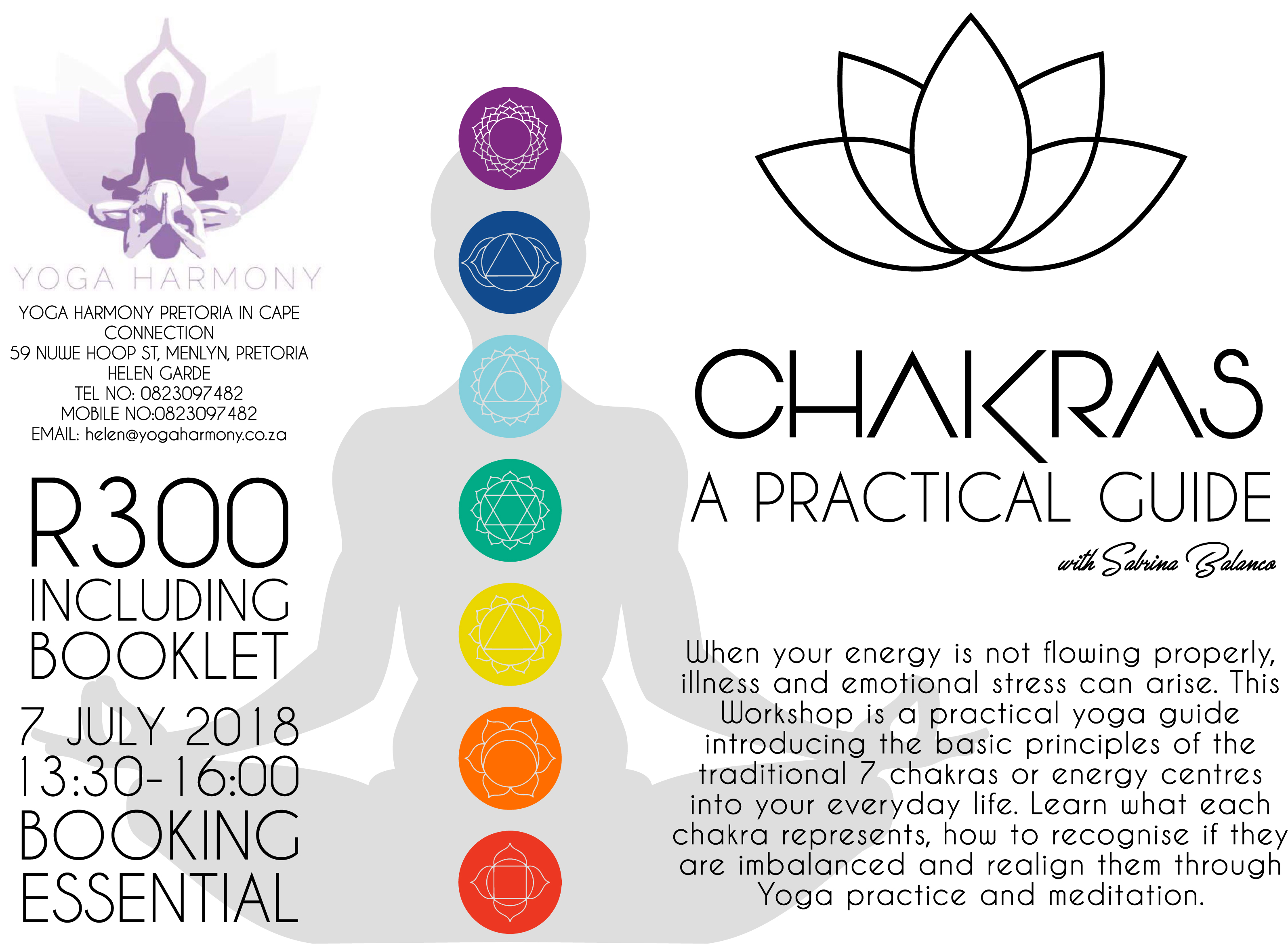 Meditation workshop with Grant Battison
Date : Saturday 26 May 2018
Time : 12h00-15h00
Cost R200
Meditation is a vital way to purify and quiet the mind, thus rejuvenating the body.
Learn to meditate with Grant. Join us for a meditation workshop on

Saturday 26 May

at Yoga Harmony. The workshop covers all aspects of meditation and is designed to teach you to meditate on your own. Grant is an experienced meditator and did his meditation teacher training in India. The workshop is a combination of ancient wisdom with modern science .
Benefits of meditation :
Increased focus. Reduced anxiety. Increased creativity. Reduced stress. Increased memory. Reduced pain. Increased compassion. Reduced depression. Increased productivity. Emotional balance.
" Meditation takes you beyond the minds noisy chatter into the pure awareness that is the source of all your happiness, inspiration, and love." ~ Deepak Chopra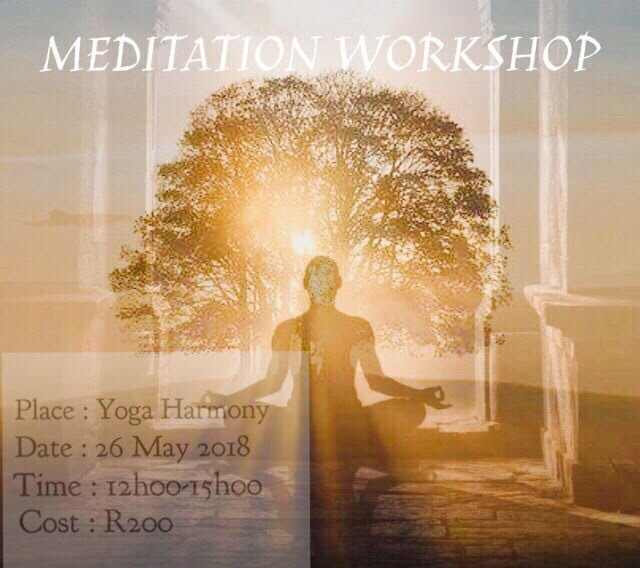 Arm Balancing Workshop with Jared Musiker
Date: Saturday 5 May
Time : 14h00-16h00
Cost : R250
Bookings are required please contact helen@yogaharmony.co.za

Jared Musiker is a Cape Town based yoga instructor teaching at some of the city's most sought after yoga spaces. He is known for his poetic and challenging sequences, with one foot rooted in traditional philosophy and the the other standing on the cutting edge of current wisdom. Jared has taught and studied yoga internationally and has practiced under some renowned teachers such as Dylan Werner and Simon Borg-Olivier. Recently in 2017, he completed further advanced teacher training with the infamous Ana Forrest, who is one of the most respected yogis of today and also ordained medicine woman. Alongside Yoga, Jared is an interdisciplinary performer and loyal devotee of the arts.

Revitalise your mind, body and spirit with one of yoga's most invigorating aspects: arm balances. Arm-balancing is more than just an uplifting practice, it serves as medicine to heavy hearts and burdened brains. Jared Musiker presents an accessible and fun approach to balancing upside-down in a Forrest infused vinyasa workshop. He will introduce the methods of the breathing, maintaining support and building upper torso strength required to elevate your practice to a new level. This workshop offers break through style techniques which will leave you floating, whether or not you have ever lifted your feet off the ground.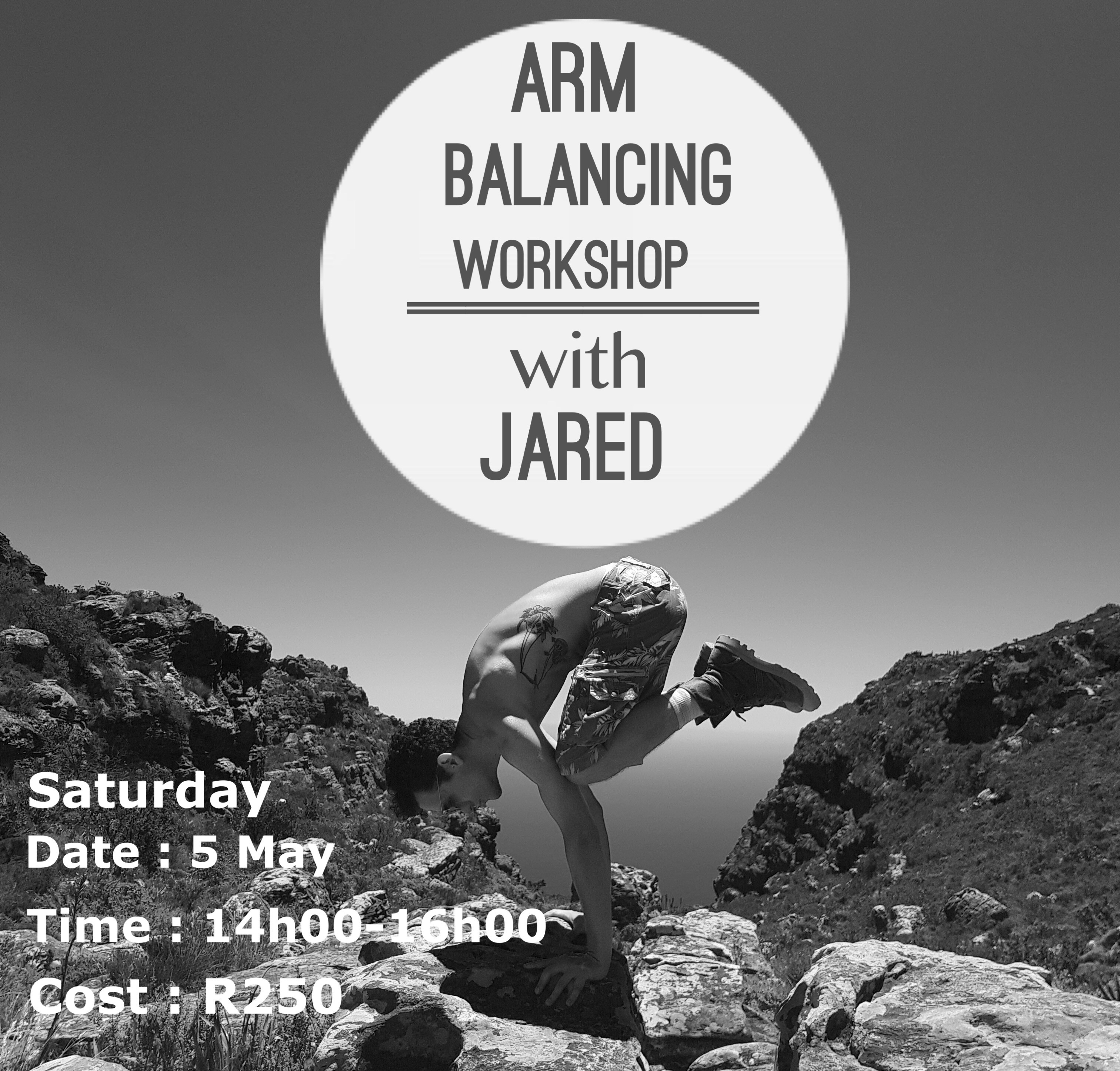 Iyengar Workshop
Iyengar workshop with accredited B. K. S. Iyengar yoga teacher and founder member of the South African Ramanani Iyengar institute - Trevor Koch.
Trevor studied and trained in India as a Iyengar teacher with B. K. S. Iyengar.
Date : 28/04/2018
Time : 14h:00-17h:00
Cost : R250
Bookings are required contact helen@yogaharmony.co.za

All levels welcome
•Pranayama
• Alleviate postural problems
• Alignment of Asanas ( poses )
• Posture
• Cultivate strength
• Flexibly
• Stability
• Release emotional tension
• Increase focus and concentration
• Increase your energy
• Improve physical and psychological health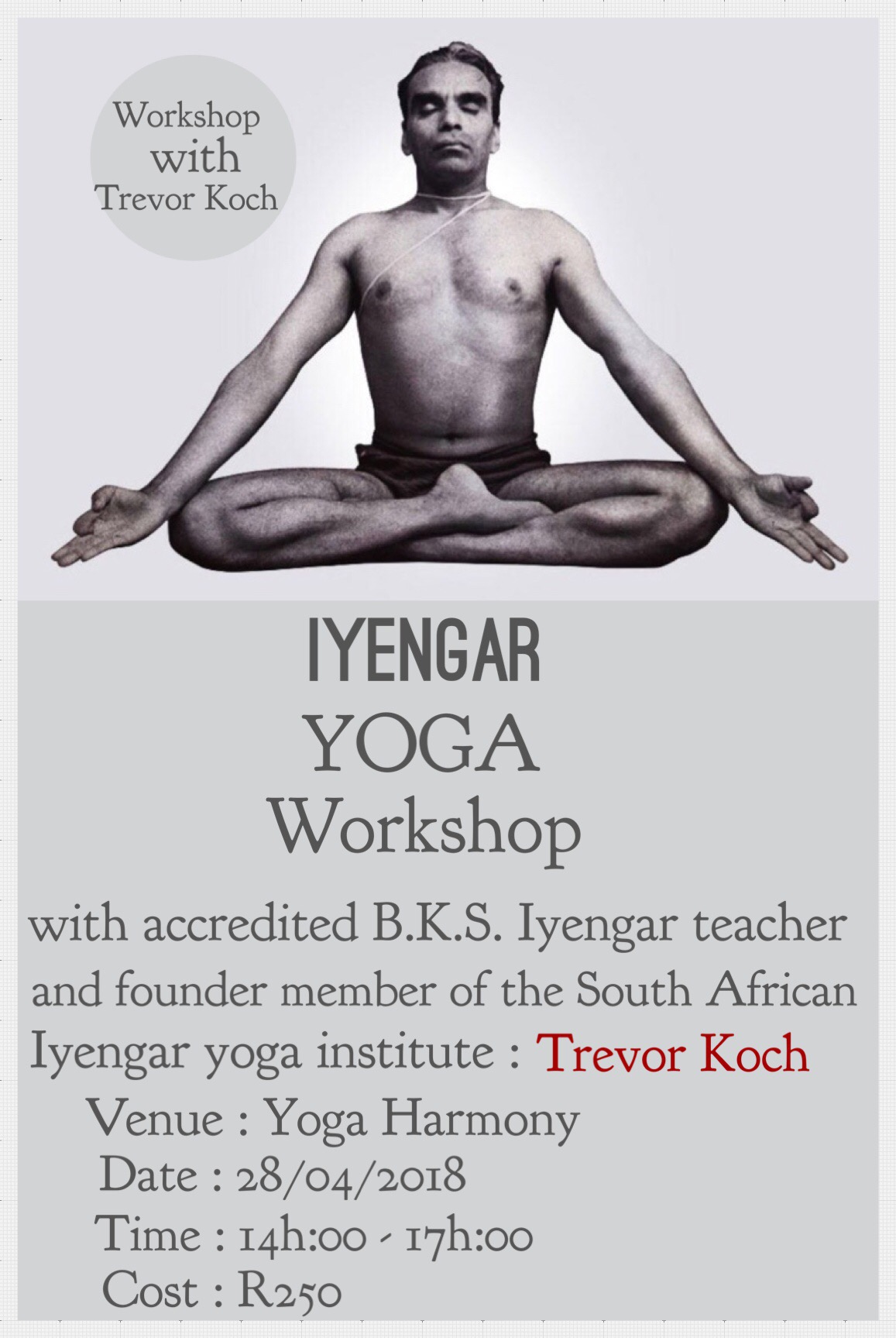 Meditation Course
4 Week meditation course with Grant at Yoga Harmony
Course dates – 4th, 11th, 18th and 25th of February 2018
Time - 17H30 to 19H00
Cost – R400 total for all four days, payable in advance
Description – Meditation is one of the greatest gifts you can give to yourself. The course covers all aspects of meditation and is ideal for newcomers to meditation as well as people returning to the practice and even for experienced meditators. Meditation has been my passion for years and having just returned from India, where I completed my meditation teacher training, it will be my honour to guide you in this subtle art.
For bookings contact helen@yogaharmony.co.za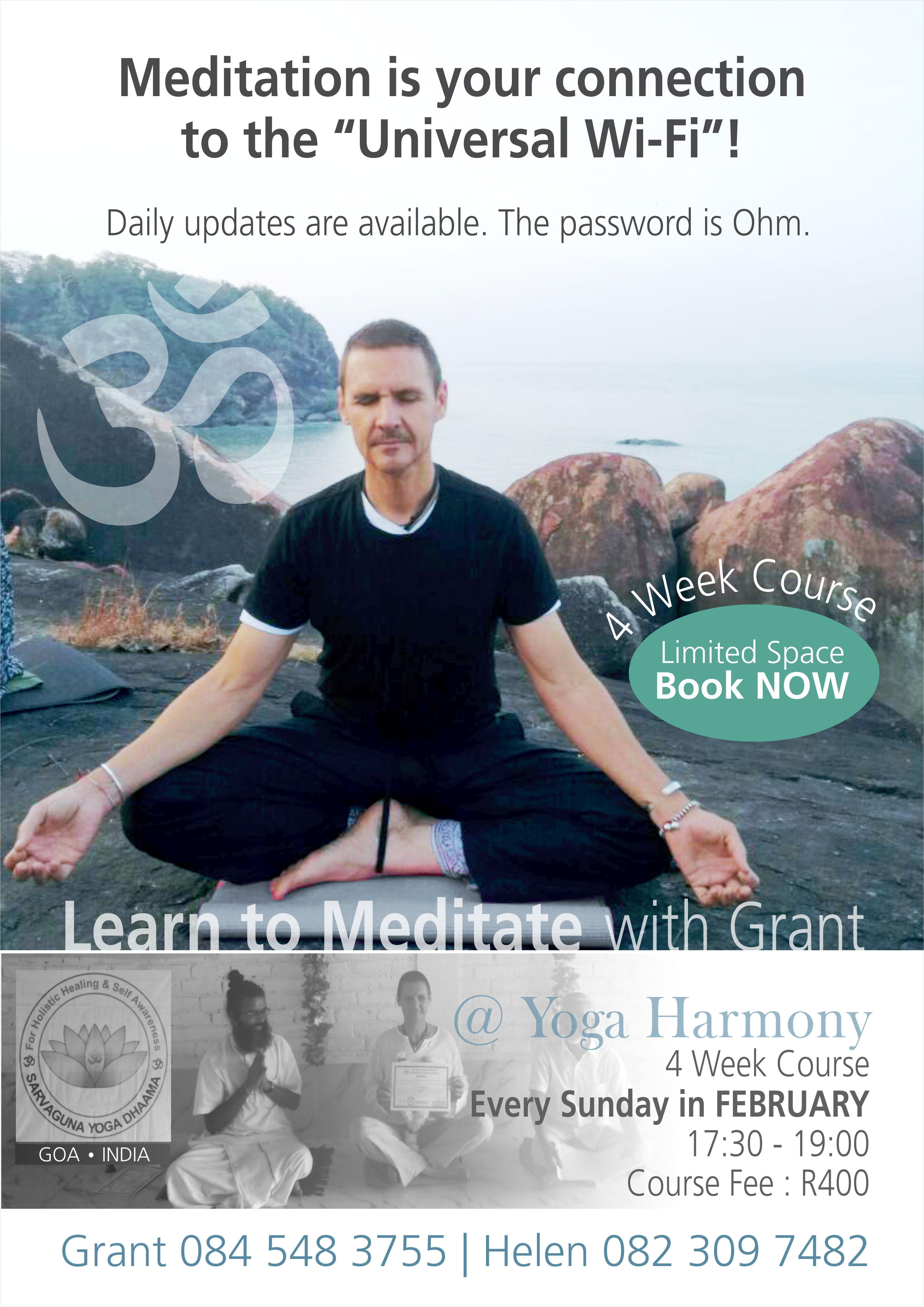 ​
Basic Beginners
Workshop with Natasha - qualified Therapeutic Reflexologist and Holistic Therapist completed her 2 Years Yoga Teacher Training in 2012 and has been teaching yoga for over six years.
Sunday 4 February 2018
Two hour workshop 10:30am to 12:30am.
Cost R250
This workshop is for the beginner to gain more knowledge on the ancient practice of yoga or for all levels who would like a refresh and restart on their journey, providing them with the groundwork and tools to remain focused and engaged.

This workshop will include :

1. Yoga Asanas ( postures )
2. Pranayama ( utilizing the breath to enhance ENERGY )
3. Alignment
4. The basics of Mudras and Bandhas
5. Explanation on the history of yoga.
6. Question & Answers.
Bookings are essential contact helen@yogaharmony.co.za or 0923097482.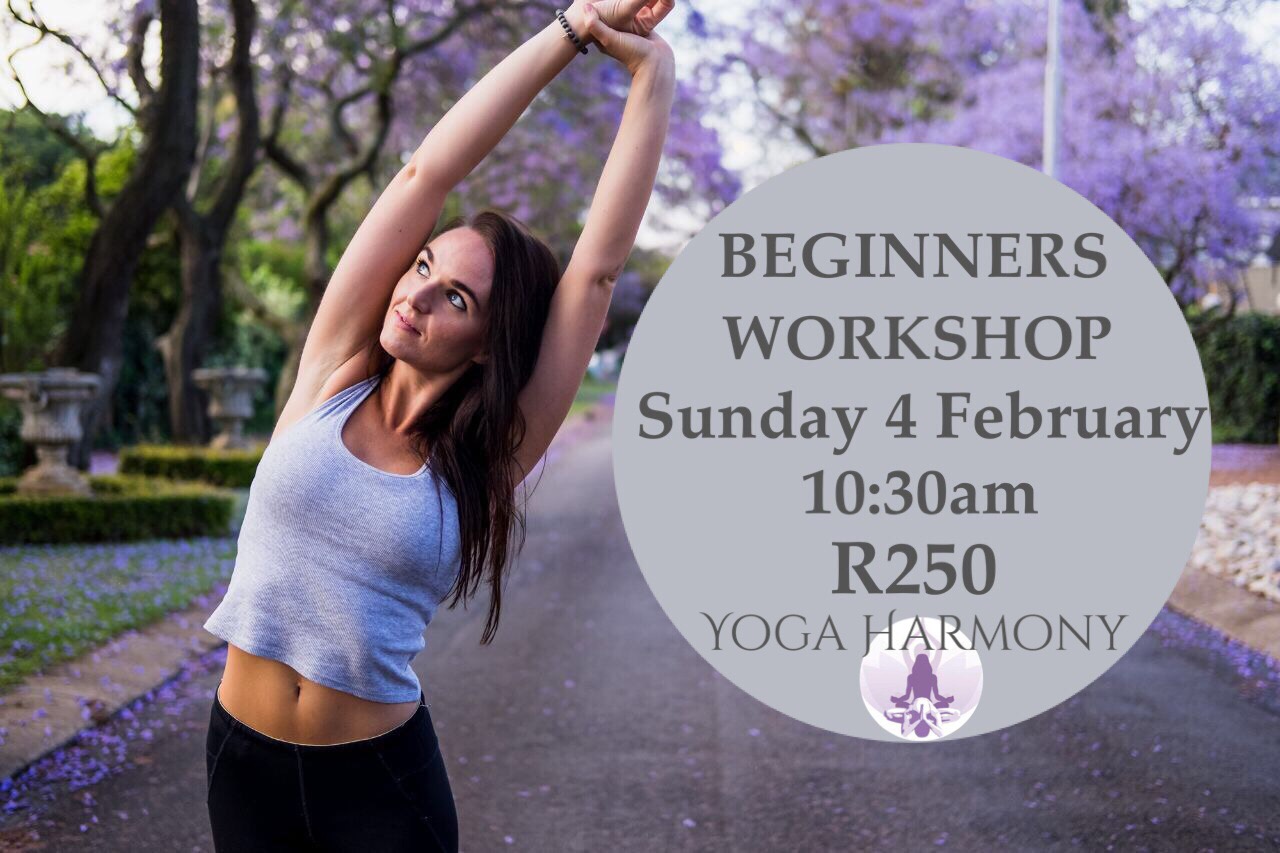 Harmony of breath, body and mind
The Source Yoga Teacher Training at Yoga Harmony ( part time course )
Date : 10 March 2018
Saturday 11am to 5:30pm
Sunday 11am to 5pm
Fees: R21-700 includes :
Anatomy workshops, Manuals, DVD's, Lectures, Guest speakers, understanding of asanas, Vinyasa and Yin Yoga with emphasis on transformation, Yogic Philosophy, Mindfulness, Subtle Body Technique Skills, Meditation, Pranayama, Bandhas, Mudras and much more.
Contact info@thesourcecapetown.co.za 021 7942640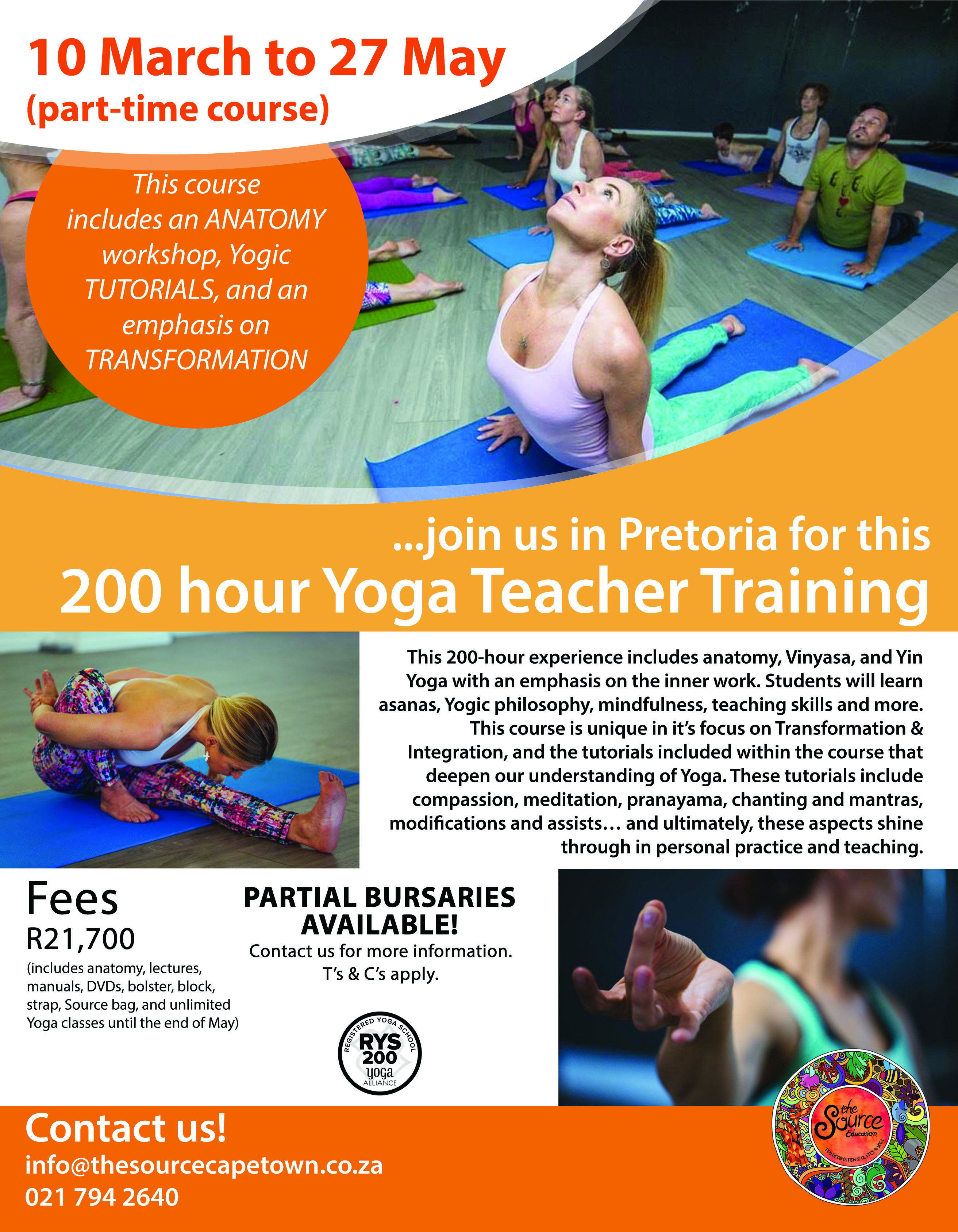 ISLAND FLOW
SATURDAY 7 OCTOBER 2pm to 4pm
Cost R250.
Ilse vd Walt certified yoga teacher from Zanzibar will be hosting and Island Flow Workshop at Yoga Harmony. This two hour workshop will include : The fundamentals of yoga postures integrated with breath, a one hour Vinyasa class and tips on how to transition into more challenging asanas and arm balancing. Meditation.
Bookings are essential contact helen@yogaharmony.co.za.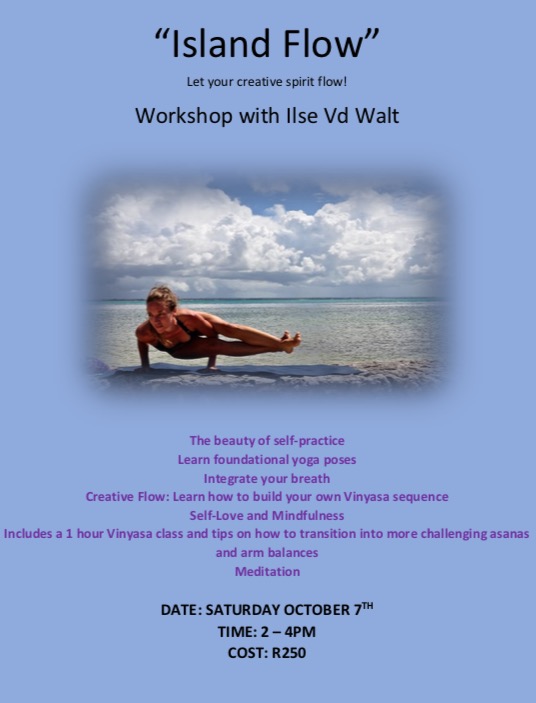 BUDOKON WORKSHOP WITH DAVE GARDNER
Saturday 26 August from 12:00 to 15:00
Cost R250.
Budokon "The way of the peaceful warrior " Join Dave for another beautiful synergy of yoga, martial arts and animal locomotion
Please book with Dave at dfg606@gmail.com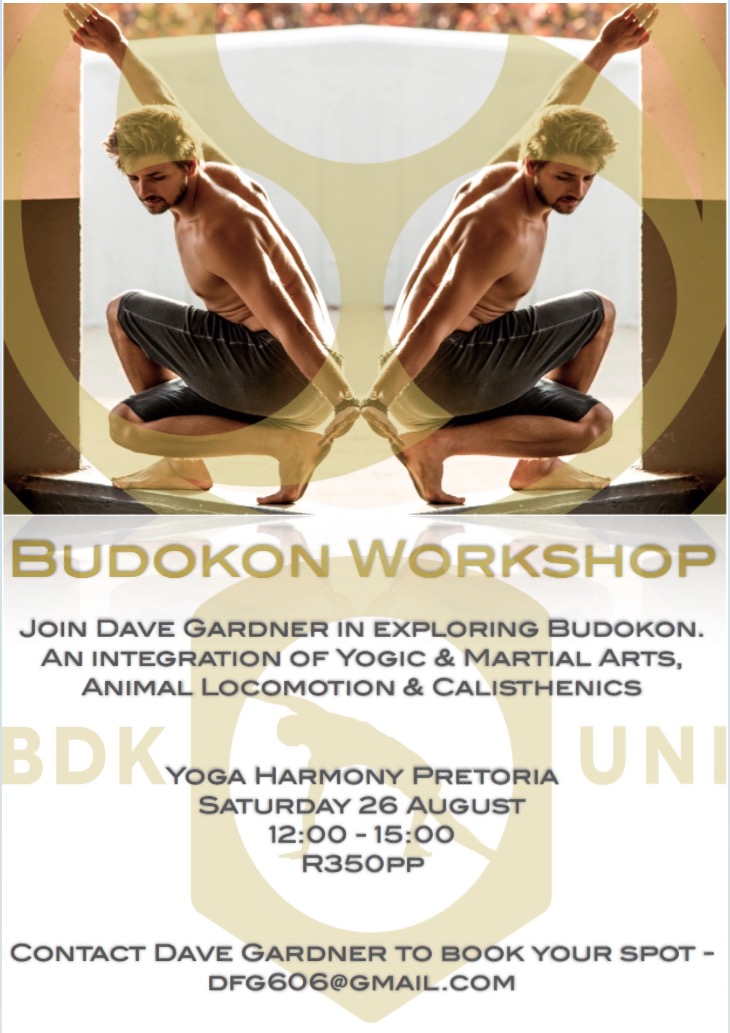 REIKI WORKSHOP
First degree Reiki class Usui Shiki Ryoho Saturday 26 August and Sunday 27 August 2017 Both days 10am to 4:30pm
Cost R2 200
In this class you will be taught about the history of Reiki, how to give a Reiki treatment to other people as well as to yourself and you will receive 4 attunements. This will enable the Reiki energy to flow again. After the first degree Reiki class you will be able to give Reiki to yourself as well as to others.
Contact helen@yogaharmony.co.za
ARCO YOGA
Saturday 15 July 2pm to 4:30pm
Cost R250.
With Lois and Ben qualified AYFit Teachers and affiliated with AcroYoga International as a AcroYoga Jambassador. Acro Yoga is the harmonious combination of the fun and energetic side of acrobatics, the wisdom and connectivity of Yoga and the loving kindness and healing attributes of the partnership through Thai massage. Come along and enjoy this playful and symbiotic relationship using Yoga and acrobatics to share in Kula - community. Using a base, spotter and flyer. The experience and environment becomes a place to build strength, openness and love where one can support and be supported, trust and be trusted and liberate oneself from fear.
Please prebook with helen@yogaharmony.co.za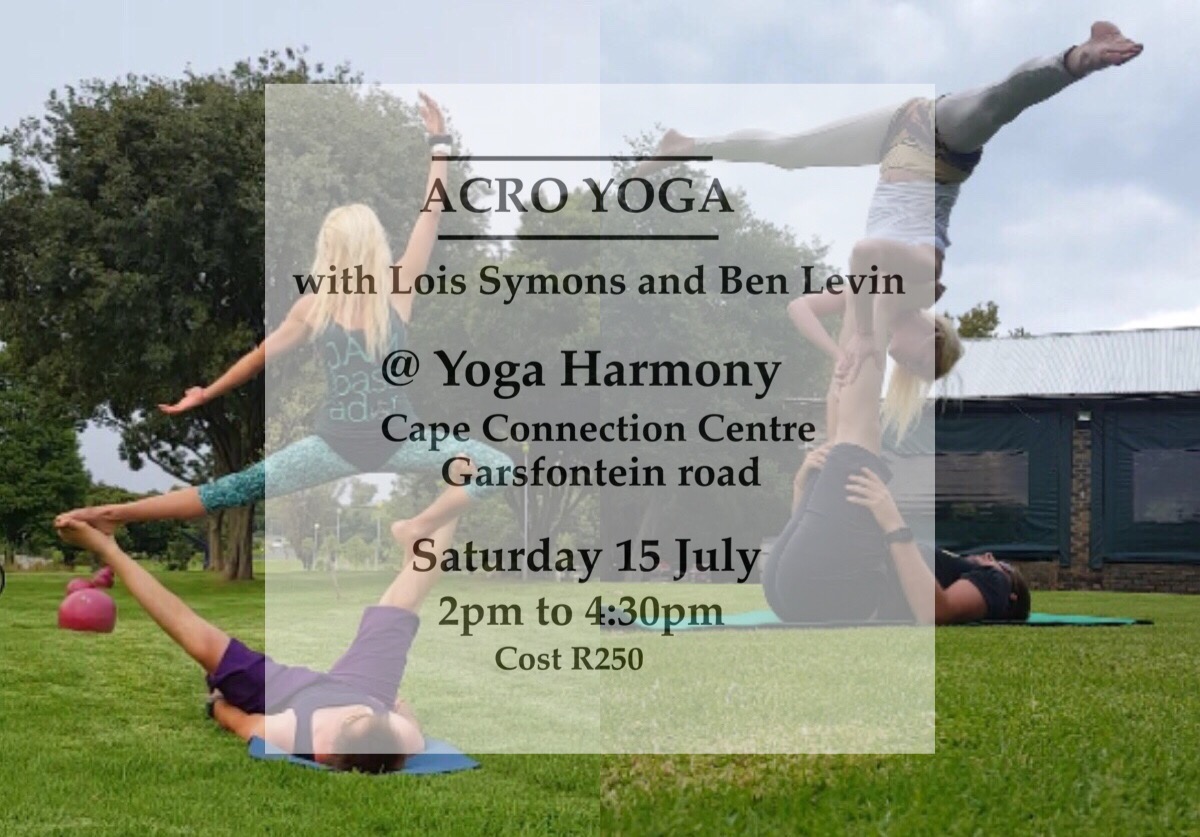 DESERT ROSE UNIVERSAL WORLD MUSIC
Tuesday 27 June from 7am to 9am.
Cost R200.
Yoga Harmony welcomes Universal World Music Desert Rose, the spectacular duo Yusuf and Lynne Holmes from Cape Town back to our studio again for a beautiful musical journey of Sound to Silence. Desert Rose will take the you on a uplifting mystical journey of sound and meditative healing allowing the listener to access their inner worlds. Chairs will be provided or the option of lying on your yoga mat ( yoga mats will also be also provided )
Bookings are essential contact helen@yogaharmony.co.za.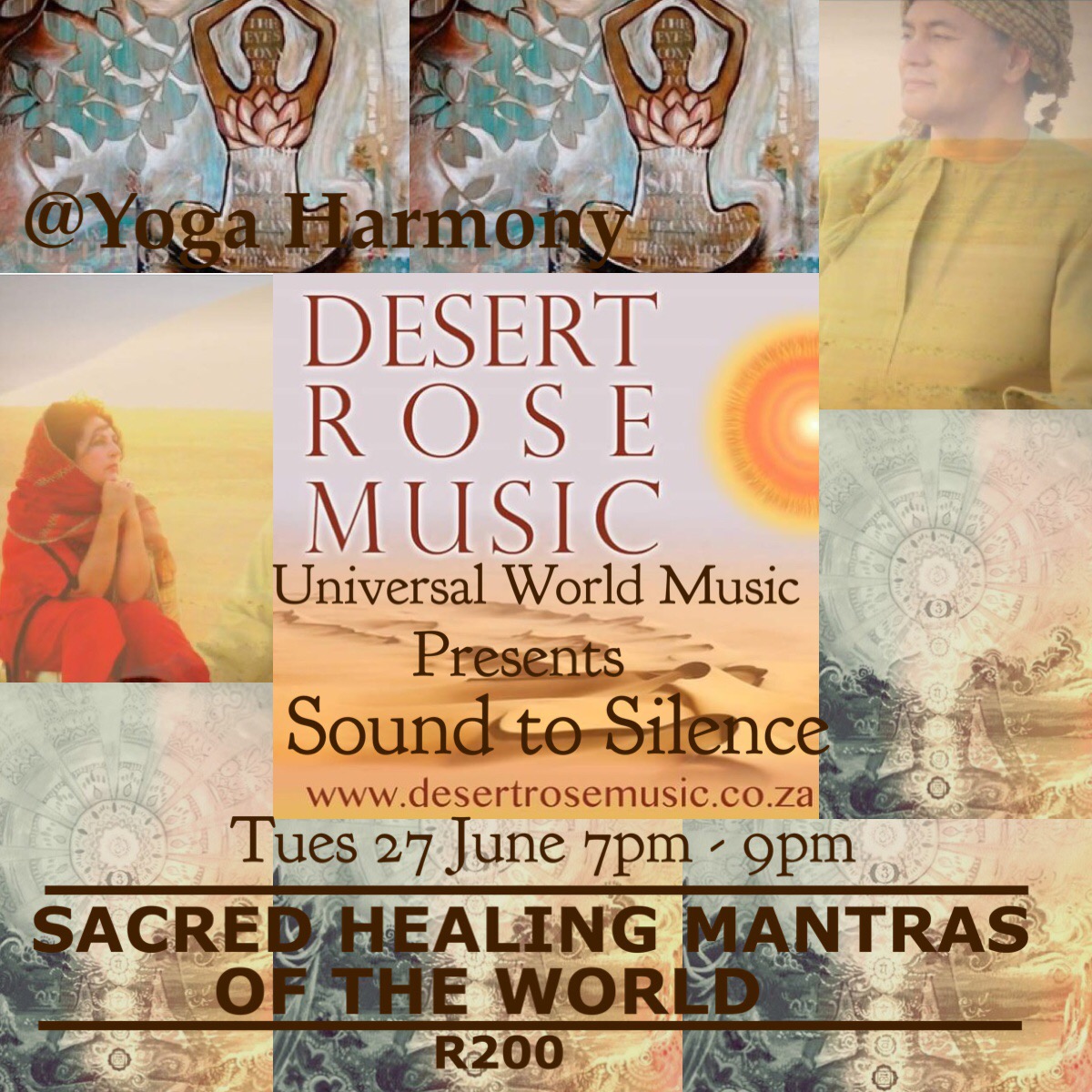 BUDOKON WORKSHOP WITH DAVE GARDNER
Saturday 10 June 12:30 to 3:30pm
Cost R350.
Yoga Harmony welcomes Dave back to our studio.
Budokon - Japanese for " The way of the warrior " Budokon- A beautiful synergy between yoga, animal locomotion and martial arts. Experience fusion of these energies and get to explore more about yourself as well as your yoga practice. Allow yourself to feel the mindful fluidity of Budokon. You will be amazed as to what your body is capable of doing in this moving meditative practice - Yoga Harmony. Book your space as soon as possible.
Contact helen@yogaharmony.co.za or call 0823097482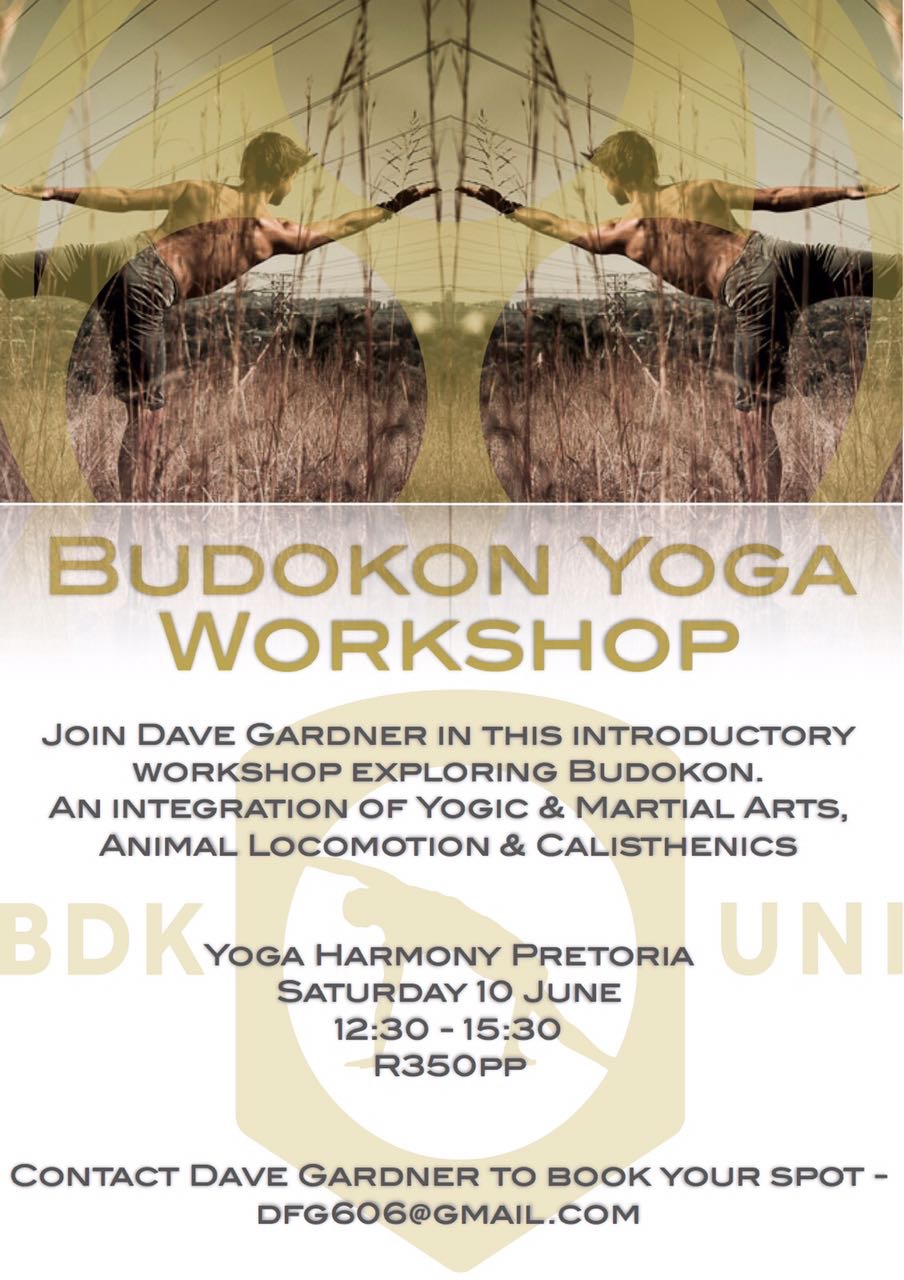 Hip Opening Workshop
Saturday 27 May 2pm-4:30pm
With Ria. Cost R200.
Create space and agility through the whole body. Through stress of everyday life, sitting for long hours in offices and cars tension is often lodged in the hips. This workshop will delve deeply into the physical and emotional layers of the hips, loosen tight hips, improve your range of motion, circulation and alleviate back pain. Two hour workshop ending with a thirty minute meditation in savanna.
Bookings are necessary. Please contact 0823097482 or email helen@yogaharmony.co.za.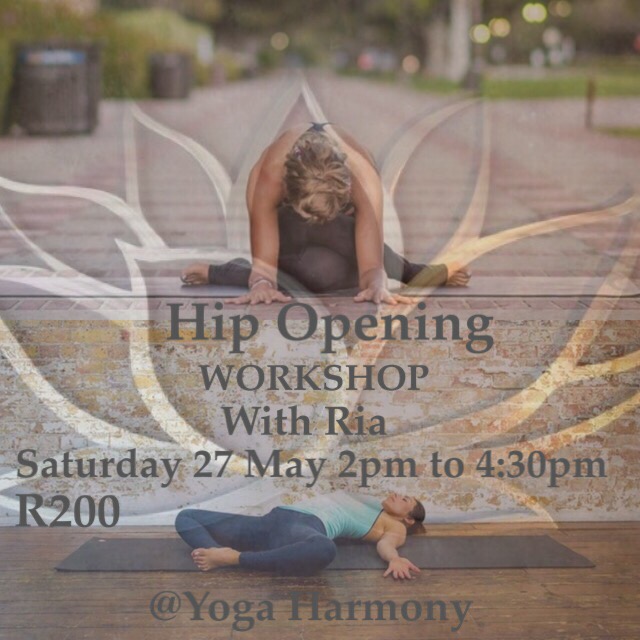 AYURVEDA WORKSHOP WITH ILSE Saturday 13 May from 2pm - 4pm
Due to the Ayurveda workshop being fully on 6 May Yoga Harmony is hosting a repeat of the workshop on Saturday 13 May from 2pm - 4pm. Bookings are essential.
Contact 0823097482 or email helen@yogaharmony.co.za.
Ayurveda Workshop with Ilse on Saturday 6 May from 2pm to 4pm cost R200:
Thousands of years before modern medicine provided scientific evidence for the mind-body connection, the sages of India developed Ayurveda, which continues to be one of the worlds' most sophisticated and powerful mind-body health systems. More than a mere system of treating illness, Ayurveda is a science of life (Ayur = life, Veda = science or knowledge). It offers a body of wisdom designed to help people stay vibrant and healthy while realizing their full human potential. Join Ilse as we delve deeper into this ancient healing system of India and learn how to apply these principles to encance the quality of your life.
Bookings are required contact 0823097482 or helen@yogaharmony.co.za.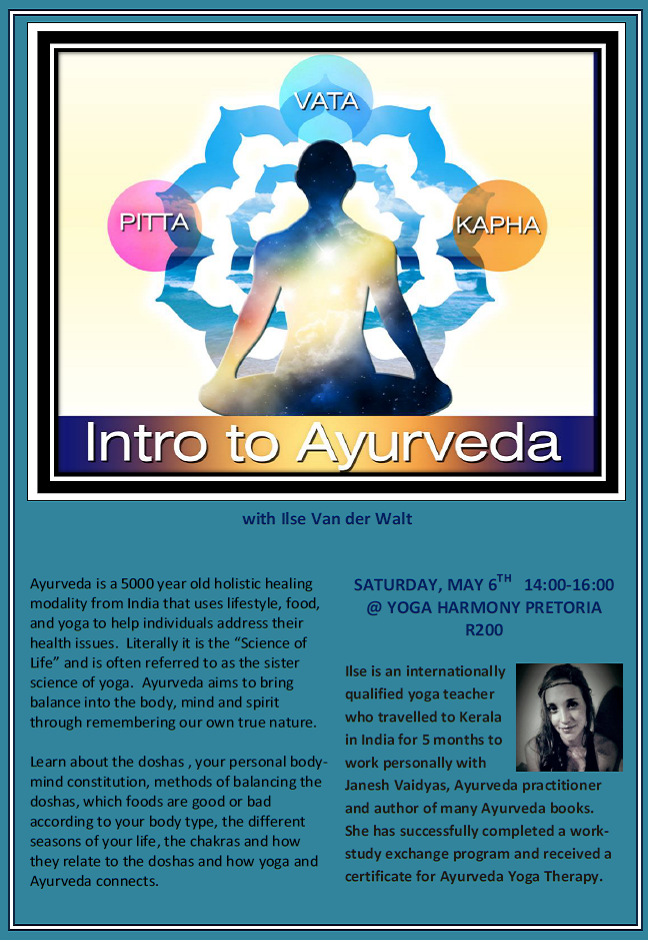 BASIC BEGINNER WORKSHOP:
Teacher : Natasha
Date : Sunday 5 February
Time : 9:30am – 10:30am
Cost : R200 per person
Suitable for Beginners as well as all levels to restart and refresh.
This workshop will teach the beginner the essentials they need to start them on their yoga journey, providing them with the groundwork to attend regular classes.
The workshop will focus on :
1. The basics of yoga and why yoga is an essential part of life.
2. Pranayama ( breathing techniques ) – Breath of life.
3. Asana ( postures )
4. Alignment
5. Mudras and Bandhas.
6. Questions and answers.
Bookings are required contact helen@yogaharmony.co.za or call 0823097482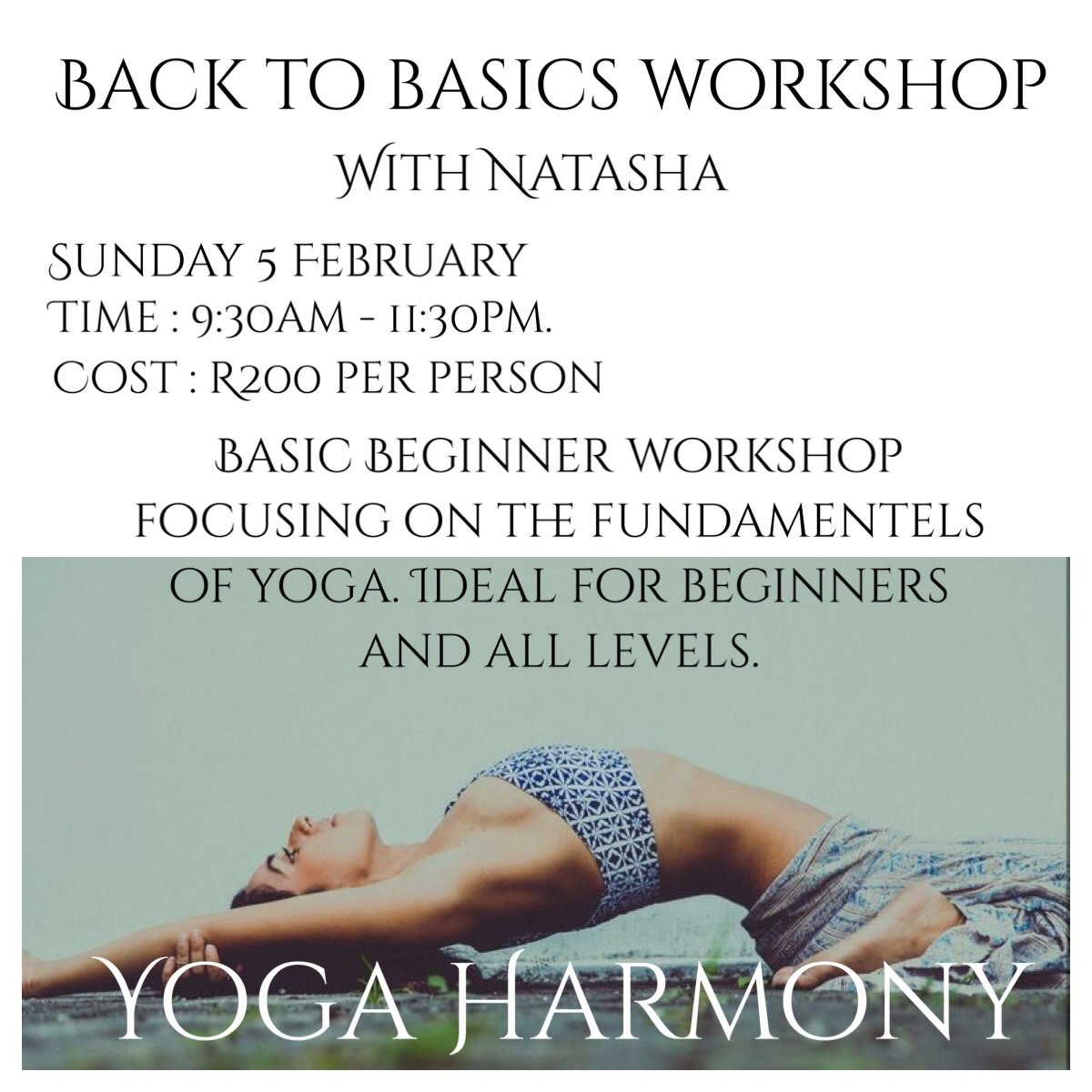 Pillars of Power Yoga Workshop: 4 December at Yoga Harmony:
Interested in expanding and empowering your yoga practice? Do you want to be and feel more powerful in asana? Join me for this special two hour workshop that explores the five pillars of Baptiste Yoga.
This workshop will give you the tools you need to explore your foundation, breath, gaze, heat, and flow in each pose in a typical vinyasa yoga class.
The workshop will include an asana practice and an exploration of the tools and capabilities that reside within yourself to empower and strengthen your body and mind on your mat and off your mat!
Please contact me with any questions or comments.
December 4th, starting at 0930
Yoga Harmony on Garsfontein Road, in Waterkloof Ridge
R 250 per person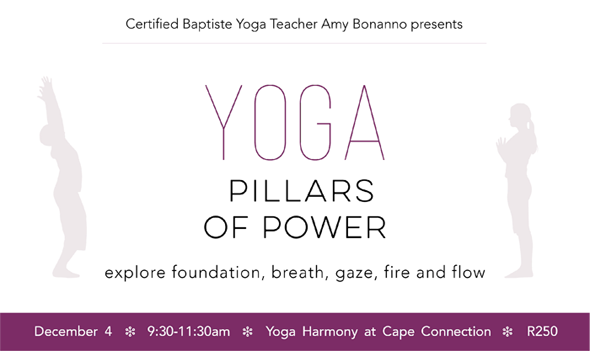 SOUND JOURNEY:
Sound Therapy Practitioner Dr Wilna Dirkse van Schalkwyk will present her Sound Meditation Workshop on Saturday 10 December from 2pm-4pm at Yoga Harmony.
She personally guides meditations and combines them with the relaxing sounds of Tibetan and quartz crystal singing bowls, hand held drum and voice to create a space to reach inner silence.
Bookings are essential.
Contact helen@yogaharmony.co.za.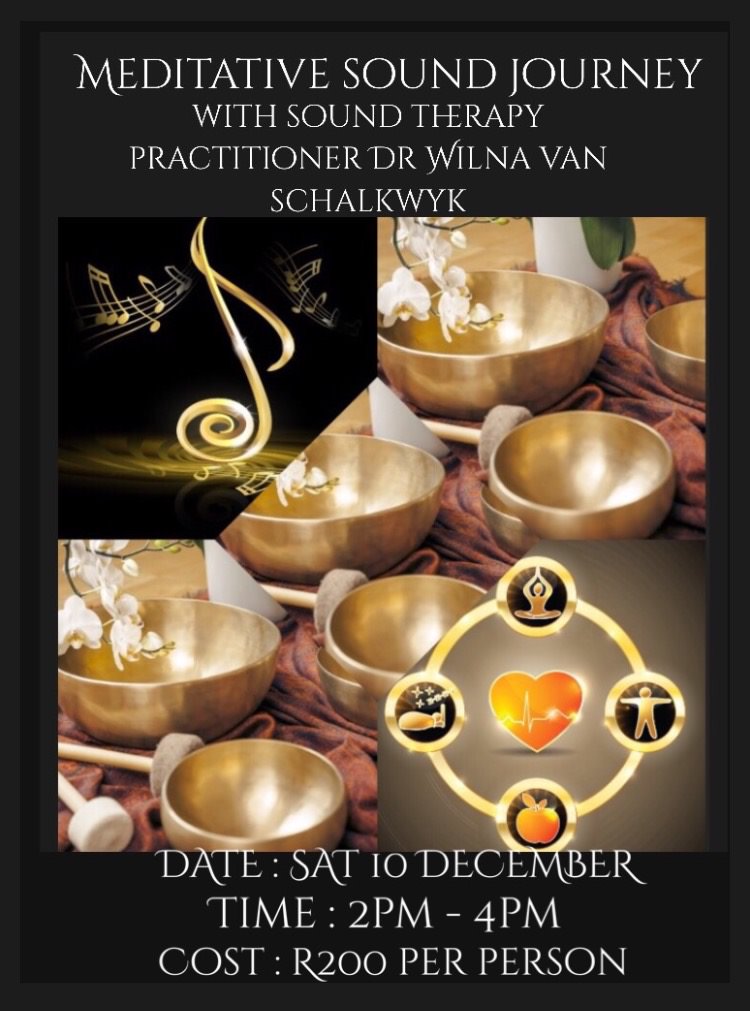 40 Days to a Personal Revolution – Led and facilitated by certified Baptiste Yoga Instructor
Bonanno:
Ignite your fire, change old habits and create space for something new !!
Starting 11 September-20 October 2016 – 6x Sundays at 9:30am.
The program is based on Baron Baptiste's book of the same title 40 Days to a Personal Revolution including • Yoga • Meditation • Diet Awareness • Inquiry and Reflection.
The book will need to be obtained and is available on kindle or through Amazon.com at R250.
Bookings are essential.
Contact Amy for any questions at afbonanno1378@yahoo.com. or call Amy on 0769387932.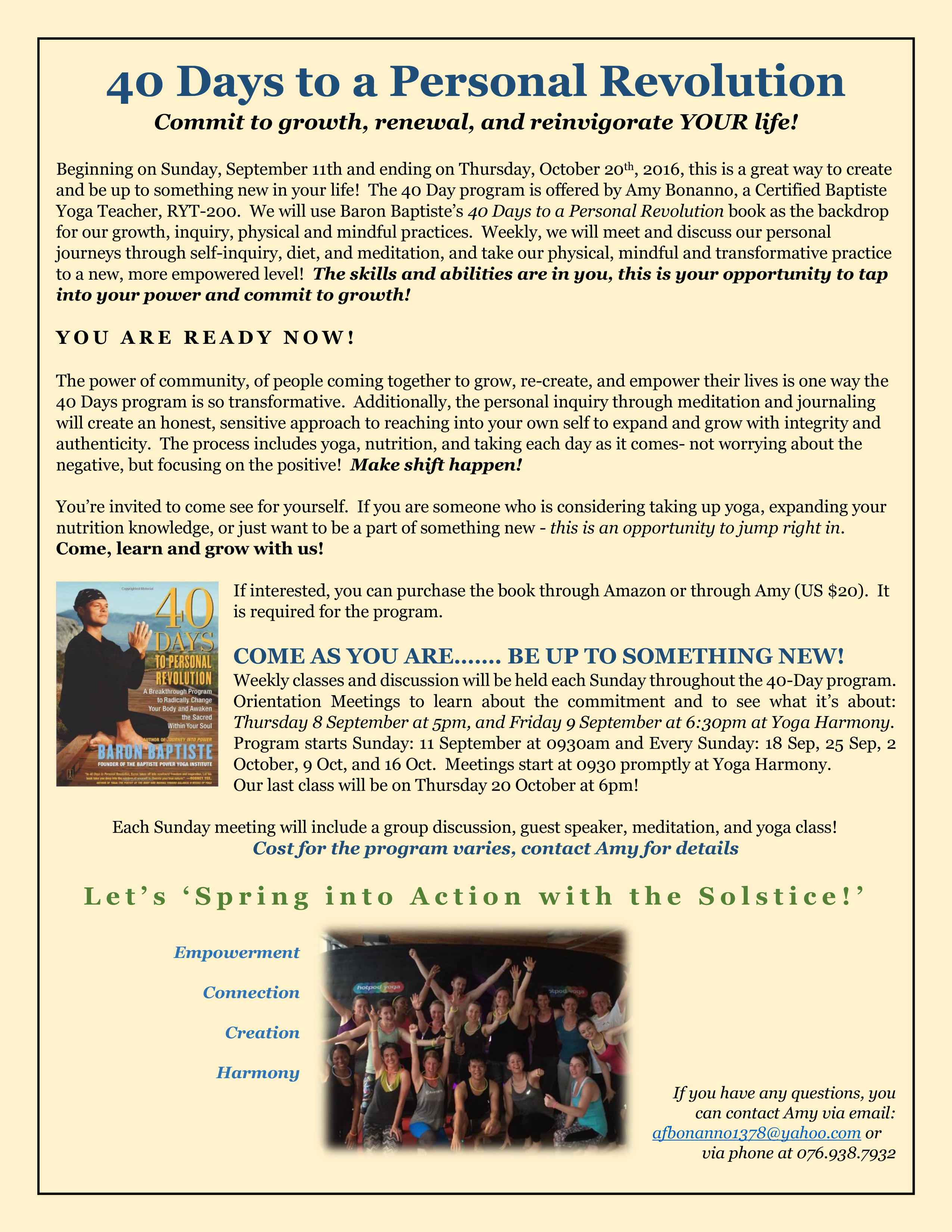 Budokon workshop with Dave Gardner:
Saturday 5 November from 9:30am to 11:30am. Cost R250.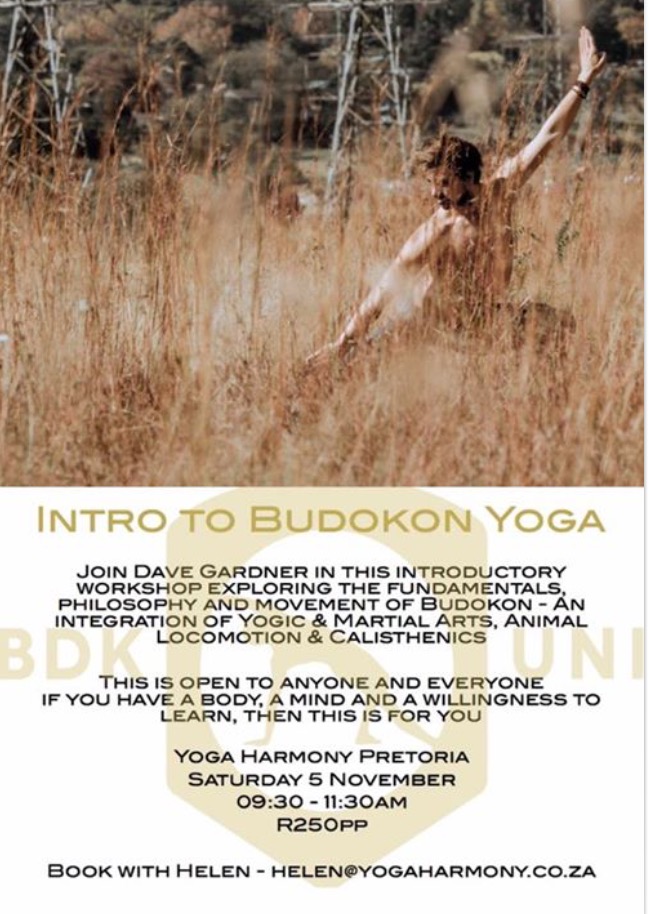 TONI CHILDS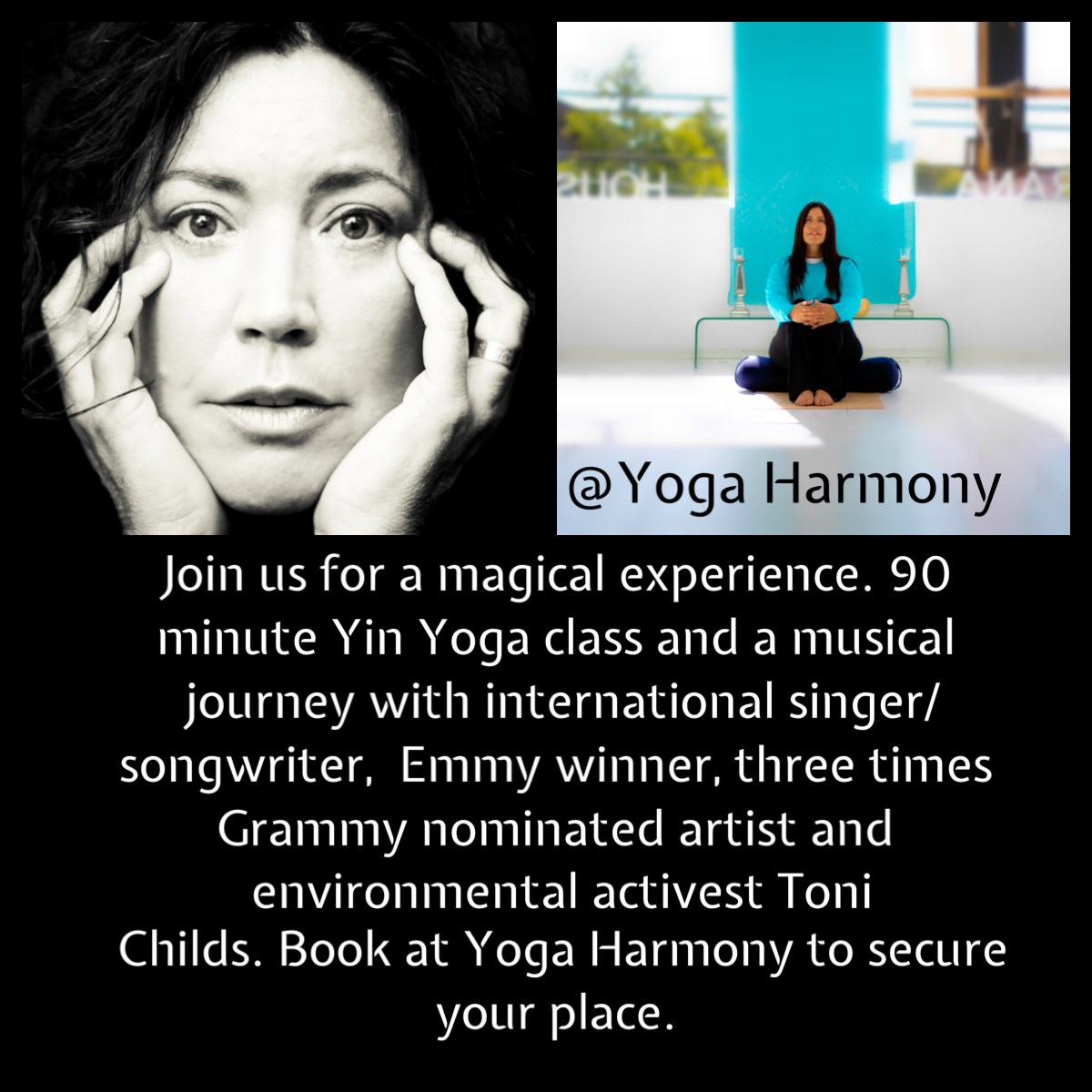 Toni Childs is visiting South Africa and will be hosting a 90 minute Yin Yoga class together with a magical music experience at Yoga Harmony Pretoria on Friday morning 13 May at 10:30 pm. Cost R250. Bookings are essential.
Chanda.
Workshops and Yoga For a Cause on Sunday's :
About : Chanda has practiced yoga for 19 years and has taught for over 15
years. Chanda holds 500 level certifications with master teacher Shiva Rea
and Shri Kali ashram in India and has hosted many workshops and retreats
globally.
Yoga Workshops
Desert Rose returns to Yoga Harmony
Sound Journey and Music of the Heart on Saturday 7 May 2016 from 2pm-4pm
Cost R250 pp.
Leading sacred world music duo Yusuf and Lynne producers and performers are returning to Yoga Harmony after a spectacular musical journey in October last year. They will perform their unique brand of multilingual sacred world music in through music of the heart. The couple have toured worldwide, their music has been described as ethereal, uplifting and allows listeners to access their inner world through original compositions that blends ancient chants in Sanskrit, Aramaic, Hebrew and French with classically orchestrated sounds and rhythms.
Refreshments will be served.
Bookings are essential contact helen@yogaharmony.co.za or call 0823097482.